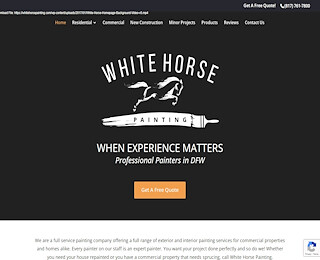 Unless you are an experienced painter, then painting the inside or outside of your home or office is probably a task best left to the professionals. When you hire professional painters, you have the peace of mind that the job is going to get done properly, and because you have a team of painters working on your project, it'll get done in a fraction of the time that it would if you did it yourself.
What Does it Cost to Hire the Best Painter in Fort Worth?
A lot of people decide to paint their own homes or offices because they either think that painting is easy or that DIY painting is a more cost-effective solution. However, you don't want to find out that making your home, office, or apartment your painting guinea pig is not a good idea! Further, people find out that DIY painting isn't cheaper than hiring a professional painter after all. Although this may seem counter-intuitive, the truth is that hiring a painter will actually save most people money.
We Save You Money
In terms of budget, think of hiring the best painter in Fort Worth - White Horse Painting - as a meager investment on the front-end with a nice ROI on the back end. When you hire White Horse Painting in Fort Worth, the painting company brings all of their own buckets, brushes, spray guns, ladders, safety equipment, etc. Plus, painting companies like White Horse Painting have great supply connections and can always guarantee the best prices on premium paints, primers, and other materials.
The Best Painters in Fort Worth are Mindful Painters
At White Horse Painting, we train all of our painting technicians to be safety-conscious, always putting safety first. This includes our safety, the safety of our clients, the safety of our commercial clients' customers, the safety of our clients' properties, and the safety of our clients' belongings. That is why White Horse Painting is fully insured for your protection. If an accident should happen, you know that you're fully covered under our liability insurance.
Hire the Best Painter in Forth
Remember, you're going to have to live with the results you get. That is why it is important to get the job done right the first time. The only alternative would be to repaint and spend more money and time trying to correct the mistakes that could have been avoided with a professional painter. Let us put our years of knowledge and experience to work for you. Our painting technicians are very good at what they do, providing expert finishes consistently. Whether your painting project is a residential, commercial, or even an industrial site; and whether your painting project is interior, exterior, or both, you can count on White Horse Painting to do a great job every time!
Call White Horse Painting today for a free quote on your painting project. You might be pleasantly surprised that our services are affordable. We'll get the job done right, or we'll give you your money back.
best painter Fort Worth
Related Post
A fresh coat of interior paint is a cost-effective way to makeover the interior of your home or establishment. Nothing can change the mood inside of a working or living space like new paint. New furniture, new appliances, and new equipment can make a space seem new, as can rearranging the furniture of the space itself. However, these steps still can't compare to painting your interior.
In order to get the best results from painting your interior, a professional interior painter in Fort Worth is advised. White Horse Painting offers competitive prices, great service, and even greater results.
The Benefits of Hiring an Interior Painter in Fort Worth
In addition to improving the feel of your home, a new paint job can increase the appeal of your home. Several studies have been carried out showing that a fresh coat of paint can increase the market value of a home by as much as several thousand dollars! Indeed, there are fewer investments that can pay off more if you're trying to get your home ready for sale.
Should I Paint My Own Home or Hire a Professional Painter?
If you are painting a single tiny space, you may opt to DIY. However, if you are going to be painting more than one room, you might want to contact an affordable interior painter in Fort Worth, such as the painting technicians of White Horse Painting. You will discover that hiring a professional to do your interior painting for you makes more sense than you may have initially realized.
A Professional Interior Painter is Affordable
If you are looking to hire an interior paint job, you'll be pleased to know that interior painting is typically much cheaper than exterior painting. The reason? The scale of the job is usually a lot less when we're dealing with interior painting. Exterior painting is a much more intensive project, requiring much more preparation, ladders, scaffold, and other tools and equipment. With interior paint jobs, preparation is minimal. Prep and paint can usually be completed on the same day with interior paint jobs.
An Interior Painter in Fort Worth Can Save You Money and Time
When you hire White Horse Painting for your paint job, you will actually save money, although this may seem counter-intuitive. How will you save money? Here's how:
1. The job will be done perfectly, and it will be done right the first time, or else we'll redo it at no additional cost to you.
2. We have all of our own brushes, ladders, sprayers, tools, etc.
3. We have great connections for materials and premium paints
4. Time is money, and our interior painting service gives you your time back
5. We use the best practices for safety ensuring no one gets sick or injured
To get a free quote for your commercial or residential painting project, contact White Horse Painting today, and get a quote from a professional interior painter in Fort Worth.
White Horse Painting
8177617800
1390 FM 1187, Aledo, TX 76008
View Larger Map
We welcome your comments!