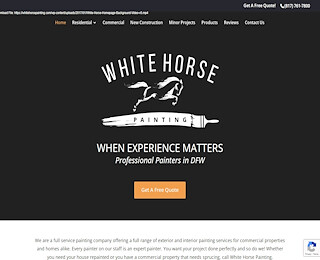 Chances are; you are probably a pretty busy guy or gal. Maintaining a home is expensive and requires hard work. On your time off, you'd probably enjoy a little R&R and your own personal pursuits. Exterior painting is a major project that requires a lot of work and time, and that is exactly why most people choose to pay an exterior painter in Fort Worth, such as White Horse Painting.
The exterior of a home or building is exposed to harsh elements year-round, such as excessive heat in the summer, rain, wind, hail, dirt, insects, and all sorts of other nasty, damaging stuff. Further, Fort Worth can be very humid during the summer months, and it's not uncommon for mold and mildew to buildup on the exterior of a home.
Prepping a Home or Building for Exterior Painting
The preparation and cleaning alone that go into an exterior painting project are labor intensive. You could easily spend a whole weekend prepping the exterior for painting. You will also need to have the right tools for this, and those tools can vary depending on what kind of siding you have.
For example, you will likely need a power washer as power washing the exterior is really the only way to get the exterior clean like it needs to be for painting. It's important to note that you don't want to wait too long between the time you clean and prep your exterior surface and the time you paint it, or else you'll have to clean and prep again because exteriors get dirty quick.
While you are prepping your exterior for painting, you'll also want to make sure that you inspect for any rotten wood or other structural defects. These will need to be replaced and fixed before you can start painting your exterior. Next, you will need to scrape and prime the exterior as the last step before painting. When this is done, you'll be ready to paint - maybe.
How Climate Can Affect Exterior Paint
You need to understand the climate and how it can affect your paint job. For example, when humidity levels are too high, it can seriously affect your coat of paint. Wind, rain, humidity; it can all damage your exterior coat. When you hire a professional exterior painter in Fort Worth, such as White Horse Painting, you know that you
Additionally, White Horse Painting is well-established and connected within the DFW area. We have developed relationships with materials and products suppliers over the years, so we are always able to compare prices and get the best deals on the most beautiful colors and premium paint products. Plus, all of our products and labor come with warranties to ensure customer satisfaction.
Hire a Safety-First Exterior Painter in Fort Worth
Exterior painting is a serious job that poses some severe safety risks. Without the proper safety gear, protocols, use of ladders and scaffolding; you could really get hurt or be liable if you pay your neighbor's brother to do the job and he gets hurt. Therefore, pay White Horse Painting and have no regrets!
exterior painter Fort Worth
Related Post
When it's time to paint the interior or exterior of your residence, hiring a professional residential painter is almost always the best decision. That probably sounds a little biased coming from a professional painting company, but there is ample reason for our opinion, and it's not just that we want your business. Homeowners and renters who decide to hire a painting company or almost always much happier with their results than those who do it themselves! Painting a residence is no small task, and it's one that you don't want to mess up!
Why Hire a Painter in Fort Worth?

Most of us work for a living and have other responsibilities as well, whether those be family, volunteering, personal pursuits, spirituality, etc. When we finally get some time off from work, the last thing we want to do is more work around the house. If you're painting your doors, cabinets, or even a small pantry or restroom, then it might not make sense to hire a painting pro. But for two rooms or more, and for all exterior painting jobs, you might be better off biting the bullet and hiring a professional residential painter in Fort Worth.
Painting is a very hands-on and time-consuming task. Even if you have the expertise to paint your own home, why would you! Just painting the interior of your home can easily be an entire weekend project! But when you hire professional painters like White Horse Painting, our team of painters can typically finish most interior paint jobs within a day.
Is it Safe to Paint My Own Residence?
While interior paint jobs can pose their own set of dangers, exterior paint jobs can be very dangerous, and we especially recommend that you seek painting services from a professional residential painter in Fort Worth for these types of jobs. High elevations, steep slopes, difficult spots to reach; exterior paint jobs require special tools and equipment, such as ladders and scaffolding. Please, don't risk bodily injury to you or anyone else. Trust the pros who are trained and licensed to do it.
We're Licensed and Insured for Your Protection
White Horse Painting will gladly be your residential painter in Fort Worth. Our liability insurance means you are protected in the event of an accident. At the same time, our warranty means that we will fix any imperfections or mistakes should they occur at no additional cost to you. Hiring a professional residential painter like White Horse Painting means your job will be done quickly, safely, and efficiently so you can get back to life as usual.
We'll get your job prepped and finished in virtually no time! White Horse Painting technicians are trained in best practices and operating procedures. Our team works in a clean and neat fashion. We'll clean up as we go and leave your residence spic and span. Leave it to us, and we'll get the job done quickly so you can move on with your life.
"Can I just paint my own house?" This is a question that almost everyone with a house painting project asks themselves. Naturally, as we are all looking for ways to save money, the idea of DIY home painting might seem like the answer. However, you probably should hire a professional house painter in Fort Worth. Yes, we are a little biased because we are a professional house painting company, and we would love to earn your business, but at the same time, we recommend this whether you choose us or another company for your job.
Why Hire a Professional House Painter?
The truth is; a YouTube video probably isn't going to help you get the quality finish you're after. It's understandable why a lot of people think that painting is easy. After all, you just put some paint on a brush and start spreading it around. Make sure your brush strokes are even and flowing in the same direction, right? Wrong. A lot goes into painting a home, and that is why people who are good enough to paint their own homes still mostly choose to hire a professional house painter in Fort Worth.
Remember, quality matters. You will have to live with your results or repaint (or hire someone to repaint) your home if you are not happy with your finish. Most people would agree that it's probably worth a couple of hundred extra dollars to get a paint job that you will love for years to come. If you are selling your home, then a couple of hundred dollars for a professional paint job is a worthy investment, as you will likely increase the resale value of your home by a couple of thousand dollars!
Why You Shouldn't Trust Online Information About DIY Home Painting
True; watching a YouTube video can teach you some important steps in the painting process, such as tools and equipment to have on hand for various painting tasks, preparation, painting the trim, etc. What a YouTube video can't teach you is that which is only learned through lots of hands-on painting experience, and that is how to spot the problems. One of the things a professional painting company does that often gets overlooked is inspecting the inside and outside of the home for things like structural defects, rot, needed materials, etc. - things that can make a big difference on how your final coat looks!
We are not trying to bash YouTube DIY videos or blogs that teach people how to paint their own homes. There is a lot of useful information online these days. Still, if you don't know much about painting, then someone who knows a little about painting knows a lot more than you! How do you know if that guy in the YouTube video is using best practices? How do you know he uses the best techniques and technologies or has the right tools for the job? For example, you don't want to use duct tape to cover your trim. A lot of bloggers and vloggers aren't very experienced in what they teach; they just want views!
White Horse Painting
8177617800
1390 FM 1187, Aledo, TX 76008
View Larger Map
We welcome your comments!